From Humility to Confidence: Lessons from a Semester in Italy
December 24, 2020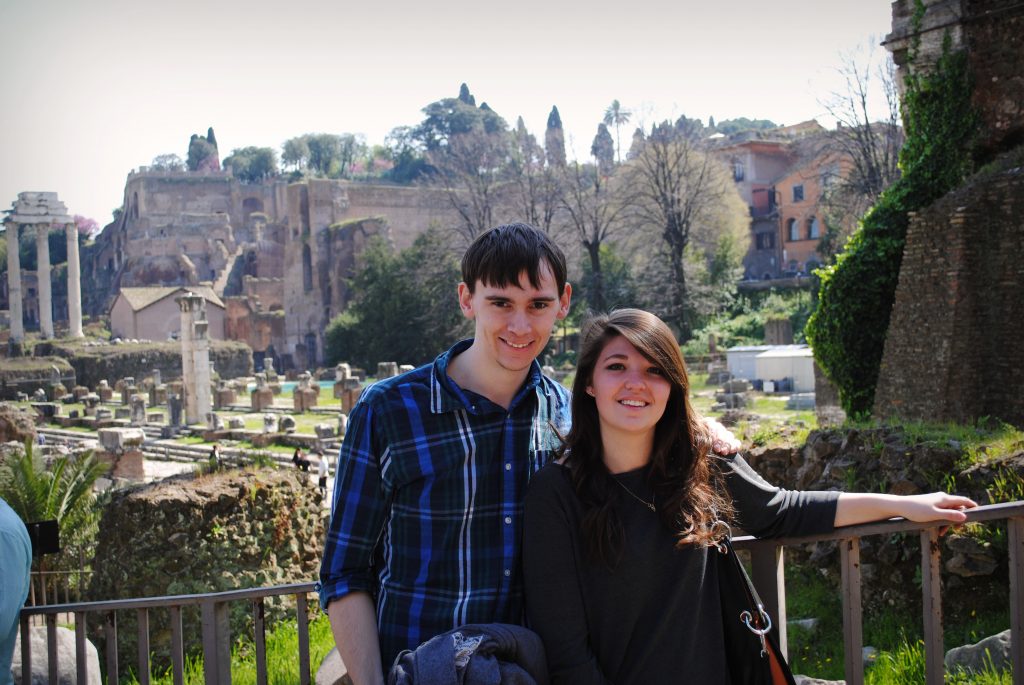 What happens to two Ashbrook Scholars from small towns in Ohio who spend a semester in Florence, Italy? Walking daily in the city that gave birth to the Renaissance, do these students become cultural sophisticates, dropping references to such notable Florentines as Dante, Michelangelo, and Machiavelli in casual conversation? Not rising seniors John Case and Jackie Horn. Aware that they had entered a foreign culture with the linguistic tools of infants, they learned humility.
In an intensive language program offered by the Lorenzo de Medici International Italian Institute, Case and Horn practiced Italian with professors who spoke to them only in that language, using gestures to convey the meanings of words and phrases. "We started out knowing nothing about the language," Horn said. Their classmates came from countries around the world, and "many of them, already bilingual, had more experience of language study. At first we were at the low end of the class," Case explained. "But after the first month, we started to pick up a bit."
Housed in apartments in the center of old Florence, the students were confronted with the sound of Italian whenever they stepped outside.  They did their own food shopping and cooking, speaking with vendors at the central market, a labyrinth of crisscrossing aisles among stalls selling everything from seafood to fruit. Italians buy fresh food every day and do not rely on shortcuts from cans and jars. "I had to learn to make my own pasta sauce, and it really is better," Horn said. She took advantage of cooking classes offered at the Institute and tried her hand at homemade ravioli and spaghetti noodles.
After several weeks, Horn experienced the "huge psychological shift" common to all second language learners, when "the weird sounds I was mimicking actually felt like what I meant." Case reported that "by the end of the course, we were doing really well. We'd had four exams and we aced all of them."
Language learning "puts smaller tasks into perspective," Case said.  Horn admitted to having been "one of those people terrified to walk into a new store." During her first weeks in Florence, "I could hardly buy anything. I'd walk in, hyperventilate, and walk out. But by the end of the program I was fearlessly buying my own veggies and prosciutto." Now at home, small challenges seem easy. "I think to myself, well, at least I don't have to fumble through this in Italian!"
Case said he learned to organize his thoughts before joining a discussion. In one conversation exercise his Italian teacher introduced the topic of gun ownership. The right to keep and bear arms is unknown or limited in other countries, his fellow students said. "A few were able to question these restrictions, but most agreed with their own nation's rules. So I had to do my best to make an argument for the 2nd amendment in Italian."
Horn and Case used weekends to travel around Italy. "Walking through the Roman forum, I had that feeling of awe and dizziness called the 'Stendhal syndrome,'" said Case, who will begin his third semester of Latin this fall and who, like Horn, is drawn to ancient history and political thought. When Case learned the Ashbrook Scholar program offered an opportunity to read the original works of ancient thinkers, he leapt at the opportunity to enroll and now balances a philosophy major with majors in history and political science. Horn, majoring in history and political science, plans a senior thesis that will compare ancient and modern statesmanship.