Scholar's Thesis Bridging Politics and Finance is Published
December 24, 2020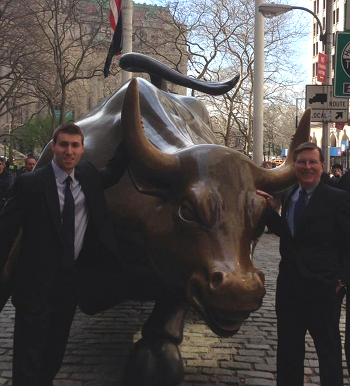 Ashbrook Scholar James Day's senior thesis, "From Washington to Wall Street: The Relationship Between National Politics and Stock Market Performance," was published in December by the prestigious Journal of Applied Business and Economics. Finance Professor Tom Harvey advised Day on his thesis, and congratulated Day on uncovering "some profound relationships between Washington and Wall Street."
Day credits both his finance professor and the Ashbrook Scholar program for pushing him to do the work. Both the Scholar program and Dr. Harvey's finance courses demanded strong writing, he says. He would not have attempted a senior thesis had the Scholar program not required it, but once he undertook the project, Dr. Harvey carefully guided him, eventually suggesting that he submit his article to the academic journal.
To write the thesis, Day examined data from 30 different sources on the relationship between US politics and stock market performance. His work in the Scholar program prepared him intellectually for the task, he said. "The Scholar program helped me become an independent thinker. In the Ashbrook program, you don't read textbooks; you read and get taught by the great independent thinkers themselves: Aristotle, Machiavelli, and so on. This allows you to develop your own intellectual psyche. It encourages you to question, to be skeptical of received opinion."
Peter Schramm, Director of the Ashbrook Scholar program, commended Day as "an independent and creative student who was dogged in pursuit of the truth, whether he was reading Aristotle or articles on finance. Beyond that, he is a gentleman who shows consideration for his colleagues. We were pleased to have him in our program, and we're proud of his success." Since graduation, Day has been employed in the treasury division of the J. M. Smucker Company in Orrville, Ohio.
To read James' article, click here.