How Ashbrook Keeps Citizens Connected to the Founding
December 24, 2020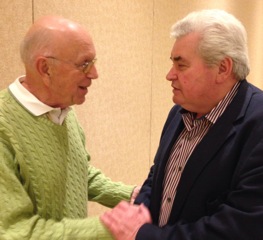 For several years, Professor Peter Schramm has paid a February visit to The Villages, a retirement community located one hour north of Orlando, Florida, bringing lectures on great American statesmen. One of those fascinated by Schramm's talks is John Bridge, who moved to The Villages after selling his family's road construction business in Augusta, Maine. Bridge himself knows about leadership, having served on the School Board and as Mayor of Augusta.
Bridge thoroughly enjoys Schramm's talks on Washington, Lincoln, and America's Founding, and gave generous financial support to Schramm's recent talk at The Villages on "Abraham Lincoln and the Invention of the American Dream."
"I'd like to see the Ashbrook Center maintain a presence here," he said, noting how residents flock to hear Schramm's down-to-earth talks on the qualities that make a statesman great. Retired citizens also appreciate talks that "tune up" their understanding of American institutions; Bridge remembered how Schramm once clearly explained the origin and purpose of the electoral college, an institution many think outdated but that protects the interests of smaller states against the otherwise overbearing influence of large states and urban areas.
Schramm understands the "ongoing battle in the world between tyranny and freedom," Bridge said, because of his own family's experience of escaping Hungary during the 1956 anti-Soviet uprising. Bridge was struck by Schramm's father's response to his son's question, "Why are we going to America?" The elder Schramm replied, "Because we were born Americans, but in the wrong place." Bridge's own great-grandfather, who immigrated to America in 1842 and started the family construction business, must have been the same kind of American, he said.
Much as Bridge appreciates Ashbrook's outreach to citizens, he recognizes the even larger impact Ashbrook can have through its programs for high school teachers. In high school, "citizens have their first exposure to American history, since it is a required subject." Moreover, excellent teachers, by engaging students in the inspiring history of our nation's Founding, can lead them to develop their own best potentials.
"I have right here Ashbrook's new book, 50 Core Documents: Required Reading for Students, Teachers, and Citizens. It's a great publication," Bridge said. "When you read an original document, it's almost like you're talking directly to the author." When asked why he supports the Ashbrook Center's work, Bridge said, "It's an institution that tries to retain our connection to the Founding Fathers. That's a heritage that can easily slip away if we're not reminded of it."