Ashbrook Alumna Holds Her Own at Ohio Statehouse
December 24, 2020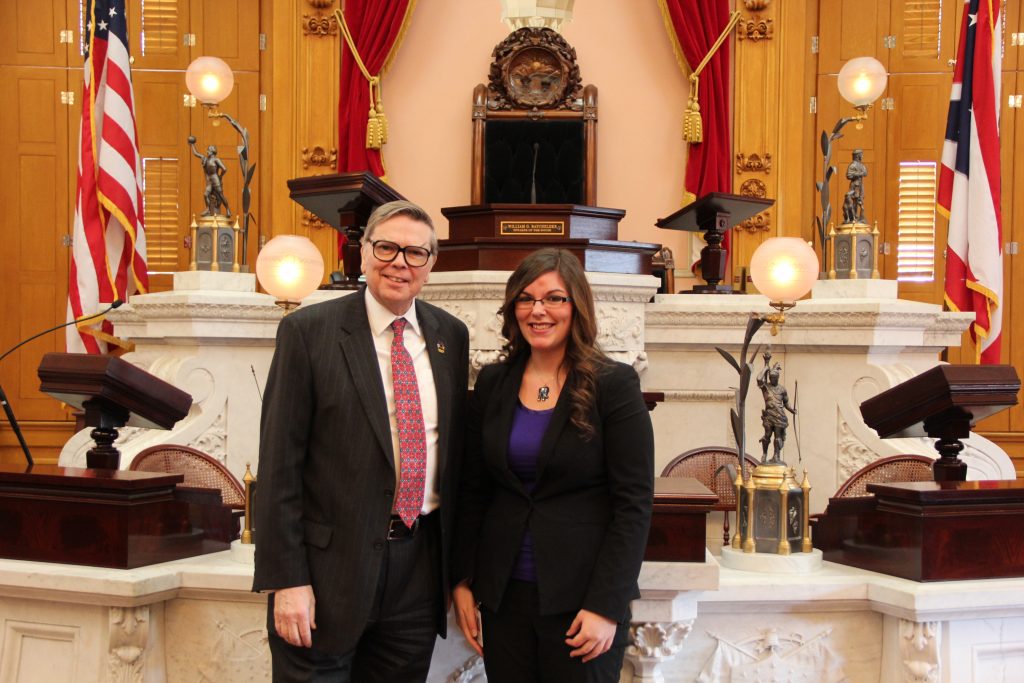 Working as the legislative aide to Ohio State Representative Kristina Roegner (House District 37) is an exciting career opportunity for Ashbrook Scholar Alumna Jenna Beadle. She helps Roegner research problems needing legislative redress, contact interested constituents for input, draft initiatives, and coordinate with legislative committees and others to steer bills through passage. It is demanding work, but Beadle brings to it the intellectual strengths she built through her Ashbrook education.
"Since being in Roegner's office, I've worked on fifteen legislative initiatives. Having honed my policy analysis skills through courses like Professor Sikkenga's Constitutional Law class, and worked through a thesis project under the guidance of Professor Campbell, I had the confidence to jump into these different legislative efforts."
Beadle began working for Roegner in January 2013, shortly after running the successful reelection campaign of Andy Thompson (Ohio House District 95). "When I arrived, it was daunting to think of the years of service many elected officials have given here—whereas I just graduated! But my background in the Ashbrook program helped me to hold my own with senators and representatives."
According to Representative Roegner, Beadle excels in this work. "She is always on top of the many issues our office handles, and is usually one step ahead of me. The caliber of individuals—such as Jenna Beadle—who come out of the Ashbrook Scholar program is first-class."
Beadle shares Roegner's belief in smaller government. Roegner co-sponsored the "Common Sense Initiative" in the 129th Ohio General Assembly, which committed legislators to remove unnecessary regulation of private business and industry. "She holds office hours in libraries around her district, and constituents bring her ideas for deregulation."
Beadle helped Roegner see House Bill 12 through passage in 2013. It amended a 1911 law requiring that industrial boilers of at least 30 horsepower capacity be run by licensed operators. The old law had prompted companies who needed boilers of far greater capacity to instead install several smaller ones. It took more fuel to operate multiple boilers, while advances in technology had made the larger, efficient boilers much safer than those of a century ago. "By removing the licensed operator requirement for boilers complying with the Board of Building Standards, HB 12 saved labor costs, lowered carbon emissions, and increased efficiency and safety in business," Beadle said.
Another success was a line item in the biennial budget, the Family Planning Funding Amendment. "It prioritizes taxpayer dollars to fund public healthcare entities before funding private organizations, and to fund private organizations that provide comprehensive care over those that do not," Beadle explained. "For example, Planned Parenthood, a private organization that does not provide comprehensive care, will now be among the last to receive funding from the State of Ohio."
Other efforts Beadle has worked on include HB 8 on School Safety, which allows off-duty peace officers taking their children to and from school to carry arms in school zones, just as on-duty officers already may do. The measure, which would bolster the number of those able to assist during emergencies, was suggested by two police chiefs in Roegner's district. Beadle also helped Roegner propose HB 326, deleting a law requiring that diabetic shoes be fitted only by those with pedorthic licenses. That regulation prevents many Ohioans from buying shoes they need at pharmacies near where they live.
"I enjoy following a bill through the legislative cycle and seeing it through to passage," Beadle says. "It is very fulfilling work."
A number of Ashbrook Scholars have begun political careers as Ohio legislative aides. "The Ashbrook name is well-known here because of Ohio House Speaker Bill Batchelder, who is on Ashbrook's board," Beadle said. "This connection creates an amazing opportunity for Scholars."