Ashbrook Teacher Uses Unique Background to Share Her Passion for America
December 24, 2020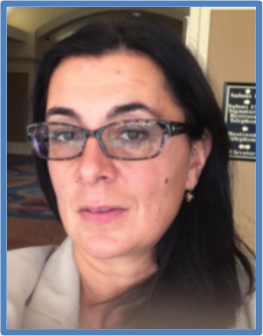 Recent studies have shown that we are a nation quickly losing touch with our history and our founding principles.
Through our Rediscovering America Initiative, Ashbrook is addressing this civic illiteracy problem with the help of our corps of more than 11,000 Ashbrook Teachers across the nation. An Ashbrook-trained teacher has the knowledge to engage students with primary source documents and offer an indispensable path to understanding and affirming the principles of freedom and equality essential to being an American.
Simona Hulubescu, a repeat attendee of Ashbrook's Teaching American History programs, is a teacher whose background provides her with a deep appreciation for the principles upon which this nation was founded and a unique perspective when it comes to understanding and teaching American history: Simona immigrated to the United States from Romania around the time of the Romanian Revolution.
"Individual rights existed only on paper. I was one of the vivid participants in the December 1989 Revolution against the communist regime; I learned that history can be modified and distorted to serve those that are in power…we all have a responsibility as citizens to engage in the act of preserving self-government and participation in the democratic process." 
Feeling blessed be a part of this great country, Simona is inspired to give back through teaching. When asked what keeps her engaged in Ashbrook's educational programs, she shared it is her"passion for knowing where we came from and how we are going to set our future as a nation, learning from great and passionate professors that bring history alive, understanding the circumstances of those unique moments when – despite all odds – people come together under the leadership of extraordinary individuals, and seek fundamental truth and values and ultimately change the course of history."
Through her work as a Global Studies Instructor for the Florida Virtual School system (2010-present), Simona is able to share this knowledge with her diverse base of international students, home-school students in Florida and beyond, and students of military families. She is also known by her colleagues as a passionate advocate for the use of primary source documents in the classroom and tapping into all of the resources and exhibits available on the TAH.org website.
"The TAH programs helped me understand how to use primary documents in the context of the time and from the position of the authors.They change my perspective and awaken my eagerness to learn more about our nation's history. They truly help me make a better sense of the process of the creation and foundation of this country. I look forward to continuing to convey this passion to my students and other fellow educators. I want to extend my appreciation and gratitude to Ashbrook." 
Ashbrook would like to thank Simona and our corps of Ashbrook Teachers for the good work being done every day to transform the teaching of American History and Civics by inspiring and educating our next generation about what it means to be an American.