Prestigious Summer Program Puts History Right In Front of Ashbrook Scholar
December 24, 2020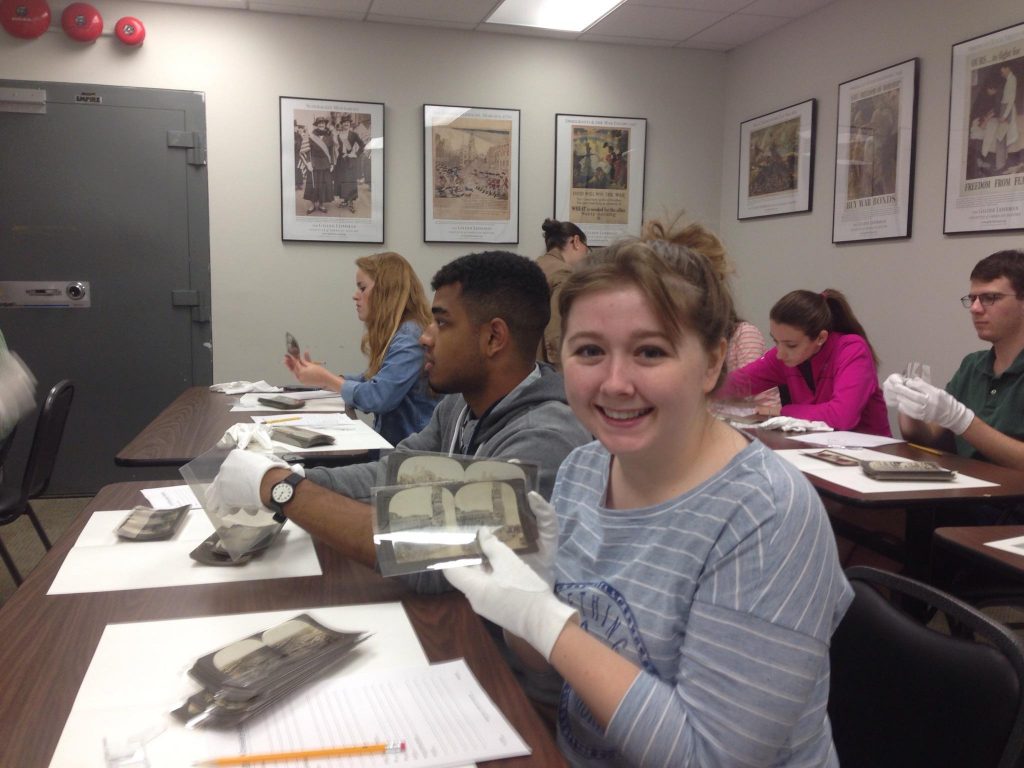 "A lot of Ashbrook Scholars are gung-ho about becoming the next Senator. I just want to work in a museum," says Shelby Boatman, a rising senior in the Ashbrook Scholar program. Boatman was selected to be one of 14 students from colleges across the nation invited by the Gilder Lehrman Institute of American History to participate in a prestigious weeklong History Scholar program at New York University in June.
Boatman proudly admits to being a history geek. Like the History Scholar awardees from other schools – ranging from Ivy League institutions such as Harvard and Yale. to state universities (UNC-Chapel Hill) to other small private colleges – she could talk history all day. The program allowed for this discussion, especially during free time after scheduled sessions with major historians, including Carol Berkin, author of A Brilliant Solution: Inventing the American Constitution; Martha Hodes, whose book Mourning Lincoln examines citizens' reactions to Lincoln's assassination; and Eric Foner, well-known historian of the Reconstruction Era.
Being on the history side of the history/political science program in which all Ashbrook Scholars major or minor, Boatman really enjoyed talking with students from other schools who share her focus. But she was surprised by their comparative lack of interest in current issues.
The week culminated in a dinner at the New York University club, where the students could converse with the historians who had given presentations. Boatman enjoyed mingling with these scholars in the social hour and was not intimidated by the formal table setting thanks to similar experiences in the Ashbrook Scholar program. "The other students were freaking out. They all wanted to sit at the same table!"
"Of course, all the students I met had done many impressive things at their home schools. One kid had founded the Black Student Union at Amherst. But in the Ashbrook Scholar program, we have opportunities to hear amazing authors and speakers, asking them questions in private sessions. We go to special dinners where we converse with Ashbrook supporters. No other student had participated in experiences like that."
For Boatman, a tour of the Gilder Lehrman archives, housed at the New York Historical Society, was the most exciting part of the week. Looking at the chair George Washington sat in at his inauguration and examining a stone rubbing of the original Declaration (made before photo imagery was available) "put history right in front of me."
Other artifacts presented subtler evidence of the past. In a painting of New York harbor, the tour guide pointed out a coffee shop in the middle of the scene. "She said this shop was the first place to receive notice of the death of Alexander Hamilton in the duel with Aaron Burr. Even something that ordinary can have a connection to something bigger."
When citizens feel that connection, they are reminded that what was done before can still be done today. "If you admire George Washington, you can try to be the kind of leader he was. Our system allows us to run for office. History can give you courage to do that."
During high school, Boatman volunteered at her local historical center, cataloging donations and designing two temporary exhibits. Her academic studies and summer experience have encouraged her to apply for a Master's program in public history.
The Ashbrook Scholar program has helped Boatman understand that the career she aspires to will give her a role in educating citizens about what it means to be an American. "I am definitely thankful for Ashbrook," Boatman said.