U.S. Sen. Lamar Alexander Receives 2015 John M. Ashbrook Award
December 24, 2020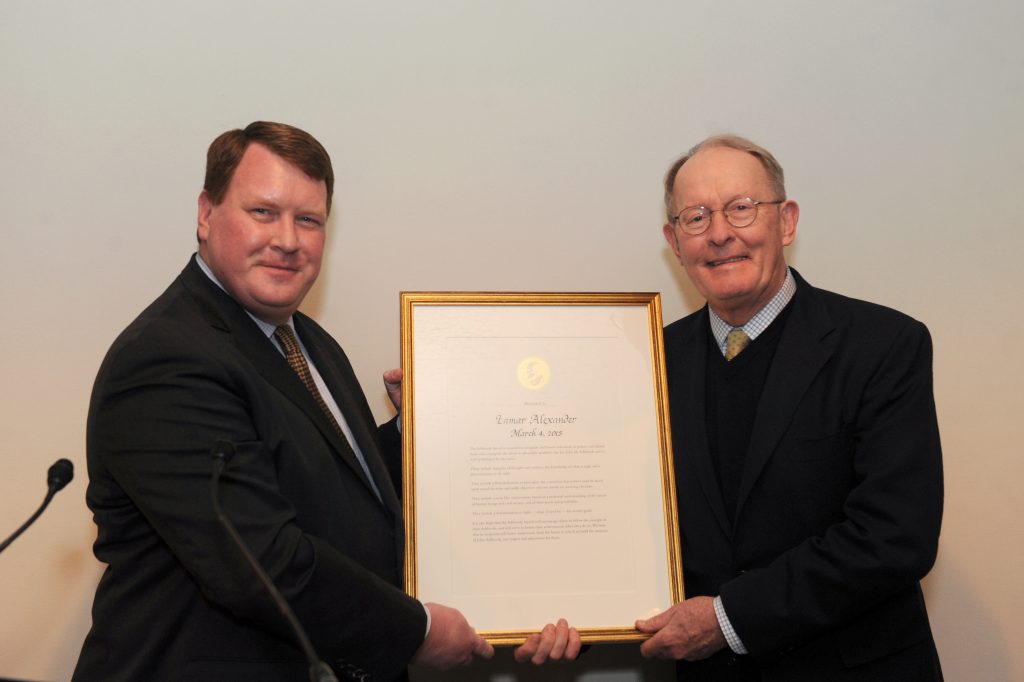 Ashbrook Cites Senator's Unwavering Commitment to History & Civics Education
The Ashbrook Center at Ashland University presented the 2015 John M. Ashbrook Award to U.S. Sen. Lamar Alexander (R-TN) last night at a special reception at the Library of Congress in Washington, DC.
The award is presented annually to "honor individuals in politics and related fields who exemplify the ideals" of the late Ohio Congressman John M. Ashbrook, who served in the House of Representatives from 1962 until his death in 1982. These ideals, the award says, "include integrity of thought and conduct; the knowledge of what is right and a determination to do right."
"Senator Alexander couldn't be more deserving of the Ashbrook Award. He has been a champion of history education throughout his entire political career, never wavering in his commitment to educating the next generation about our unique form of constitutional government," said Roger L. Beckett, executive director of the nonprofit educational organization.
"He pioneered the idea of hosting educational programs at key historical sites during his early days in the Senate," added Beckett.  "The Ashbrook Center embraced this concept then and continues these types of programs now to great success."
Founded in 1983, the Ashbrook Center offers educational programs, resources and publications for teachers and students that help them develop a deeper understanding of the principles upon which the United States was founded.
For teachers, Ashbrook offers an historical documents library, books and other classroom resources, which are available online at TeachingAmericanHistory.org, online lesson plans, weekend and day-long colloquia and a Master of Arts in American History and Government degree program in cooperation with Ashland University that is tailored specifically for social studies teachers.
For students, Ashbrook offers both an undergraduate Fellows Program at the university and a Webinar series for high school students.
The son of a kindergarten teacher and elementary school principal, Senator Alexander has served as governor of Tennessee (1979-87), U.S. Secretary of Education (1991-93), and since 2003 as United States Senator, where he currently chairs the Health, Education, Labor and Pensions committee.
The Ashbrook Center, an independent center at Ashland University, offers programs with a national scope to restore and strengthen the capacities of the American people for constitutional self-government.
Audio recording: Lamar Alexander Receives John M. Ashbrook Award