Ashbrook Scholar Interns for Ohio Congressman
December 24, 2020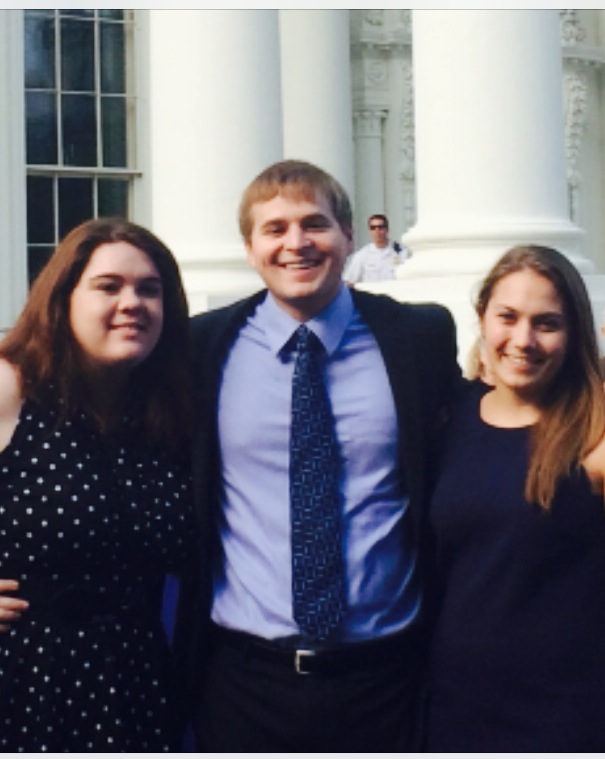 Kate Brickner, a senior Ashbrook Scholar from Cleveland, interned in the DC office of Representative Bob Gibbs (Ohio district 7) for three months this summer. A philosophy and political science major, Brickner brought a combination of political experience and thoughtfulness to this internship. On campus, she has served on Ashland University's Student Senate since her freshman year. Last spring, she was elected Executive President. In this role she is helping to represent student interests in the university's current institutional prioritization review. Off campus, she worked last year in Gibbs' district office in Ashland.
Moving from the district office to the Capitol Hill office, how did your duties change?
The district office focuses on citizen casework: helping those who are having difficulty obtaining federal benefits, such as those due to veterans. The DC office deals with national policy, working at a rapid pace, with Congressmen having to consider and vote on dozens of bills every week.
In DC I did data entry and constituent outreach, attended policy briefings and wrote memos on these, researched bills coming up for a vote, and did some preliminary research on a bill the Congressman may introduce.
What did your internship teach you about Congress?
I saw how progressive thinking tends to expand federal control over local issues. For example, I attended an Agriculture Committee hearing discussing the impact of an expanded EPA definition of "waters of the United States" on farming. The Clean Water Act defines national waters over which the EPA exercises some regulatory control as those that are "navigable" between states, but recently the EPA asserted a power to monitor the run-off of farm chemicals into seasonal pools and streams. It is requiring new permits for pesticide users.  Many are calling this regulatory overreach. Congressman Gibbs introduced a bill that would remove the requirement, since pesticide use is already governed by another act that specifies the uses for which pesticides are labeled. The bill did pass the House, but the debate over it disheartened me.  When Gibbs and others raised Constitutional objections to the new EPA ruling, these were quickly forgotten, and the discussion reverted to technical considerations about water safety. I had read about the impact of progressivism, but this was the first time I saw it in action. Many in Congress seem to fear that if they make arguments based on the Constitution or Declaration, they'll be seen as narrow-minded.
Did you meet other interns? How does the education they are receiving differ from that in the Ashbrook Scholar program?
The Ashbrook program has taught me the principles underlying our system, so that I viewed what happened in Congress differently from my housemates, who were also interns on Capitol Hill. I was the only one who would come home and want to talk about the Constitutional implications of policy discussions. One roommate was studying at McGill in Canada, others at major state universities like Berkeley. They were proficient at reading and summarizing legislation, and they wrote well, but they focused only on practical politics. Although at first they called me an idealist, eventually I think I got across to them the importance of understanding and standing behind American principles.
In your view, what are the greatest benefits of the Ashbrook Scholar program?
It has improved my critical thinking and writing skills, but more important, it has taught me to seek truth and to aim at the highest purposes. I am learning what it is to be an American and living life based on that understanding. The questions we study become driving forces in our lives.
What are your plans for after college?
After what I've seen of politics, I would prefer to teach in a university, helping to contribute to a solid liberal arts education program. I am looking at graduate programs in political theory.