Ashbrook Program Professor Reflects On The Impact of History on American Government
December 24, 2020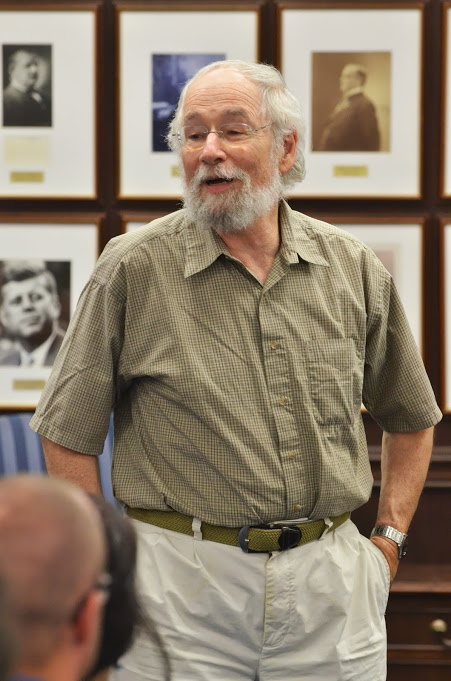 Marc Landy is the Edward and Louise Peterson Professor of American History and Government in Ashbrook's summer residential Masters program (MAHG) for teachers and Professor of Political Science at Boston College.  He also co-authored with University of Virginia Professor Sidney Milkis American Government: Enduring Principles, Critical Changes, a leading introductory textbook for college and high school US government courses.
We recently asked Professor Landy to explain why those who study American government need to also study American history.
1. What do you fail to understand if you forget the influence of history on political institutions?
You can't understand current politics without studying the development of political forces and the impact of major events. The political science profession acknowledged this when it recognized the field of "American Political Development" in the 1990s, in part due to the influential work of my coauthor Sidney Milkis.
Take American federalism. The contemporary reality looks like chaos, with some powers held by the federal government, some by the states. You're not going to understand why the powers are divided this way simply from reading the Constitution. Certain enduring principles of federalism come from the Constitution and from precedents set in the early republic. But there is an accretion of practices on top of that.
Consider also political economy. Our economy functions more like the capitalist system Adam Smith envisioned than do the economies of most other republics. This is due to certain ideas embedded in our Constitution, such as the contract clause, but also to court decisions prohibiting states and localities from imposing taxes outside their own boundaries. However, during our history, federal regulation of the economy has increased, and during the New Deal we set up a social safety net.
2. You've taught in Ashbrook's Master of American History and Government program (MAHG) since its beginning. What have you learned from this?
One of the glories of MAHG is that we're totally free to synthesize political science and history. Through the MAHG program I've gotten to know Ashbrook historians like John Moser and visiting scholars like Dan Monroe, David Krugler, and Robert MacDonald. I sit with them at dinner and learn from them.
I also learn from high school teachers studying in the MAHG program. They have their finger on the pulse of today's students. We revised the 3rd edition of our textbook to address the things students really need to know.
Today's students, eager consumers of current media, forget the role of memory. The Vietnam War forever marked my generation; current students don't share this memory. I'm not even sure that the students I teach today at Boston College are very moved by the experience of 9/11, which happened when they were six or seven. Other events, like our Civil War, stayed in the minds and hearts of Americans for generations.
3. What do you most enjoy about your work in the MAHG program?
The classroom interaction is fantastic! I teach both undergraduates and graduate students at Boston College, and my students are very good, but nothing compares with the level of curiosity that MAHG students bring to class. For many, understanding American history is the most important thing in their intellectual lives. They really care! Many already know so much history that their questions and comments are really informed.
4. How can we improve civic education in America?
We need to teach young people the history of our country. Without this knowledge, they can't appreciate what's extraordinary about America, nor can they see the roots of the problems we currently face. 
You may read more about the textbook and also order an examination copy at http://www.cambridge.org/us/academic/subjects/politics-international-relations/american-government-politics-and-policy/american-government-enduring-principles-critical-choices-3rd-edition