Cleveland Community Leader Joins Ashbrook Board
December 24, 2020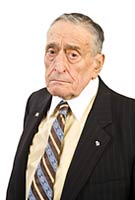 Samuel H. Miller, co-chairman emeritus of Forest City Enterprises, Inc. has joined the Board of the Ashbrook Center at Ashland University.
"I am pleased to join the effort to educate the next generation about what makes America great," Miller said.
Miller is actively engaged in the Cleveland community and has served on the board of trustees of the following organizations: WVIZ, Jewish National Fund, Baldwin-Wallace College, Cleveland State University, Notre Dame College, the Catholic Diocese of Cleveland Foundation, and John Carroll University.
In addition, Miller is a Lifetime Honorary Trustee of the Jewish Community Federation of Cleveland and National Conference of Christians and Jews, an Honorary Trustee of Case Western Reserve University, and is Chairman Emeritus of Medical Mutual of Ohio. He also participates in the Greater Cleveland Roundtable and serves on the board of directors and executive committee of The Cleveland Clinic. In 2003, he was made a Distinguished Fellow of The Cleveland Clinic Foundation.
Miller is a graduate of Case Western Reserve University, and has an MBA from Harvard Business School. He also served in the U.S. Navy from 1942 to 1946.
Roger Beckett, Ashbrook's Executive Director said, "Sam Miller has been a philanthropic leader in Northeast Ohio and our state. We share his concern about the future of our country, and we are honored to have his good name associated with ours."
Personally dedicated by President Ronald Reagan in 1983, the Ashbrook Center is an independent center at Ashland University. Ashbrook restores and strengthens the capacities of the American people for constitutional self-government through educational programs for students, teachers, and citizens. With a budget of $4.3 million, a staff of 17, an on-staff faculty of 11, a large visiting faculty, and a solid plan for growth, the Ashbrook Center has the capacity to make a critical difference in the next generation's understanding of what it means to be an American.
###