Ashbrook Offers High School Webinars
December 24, 2020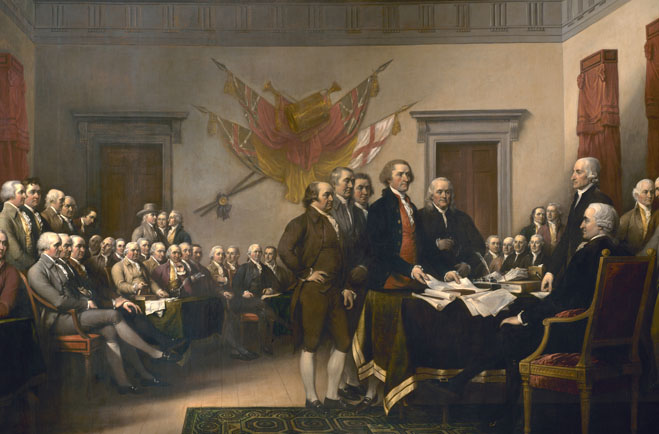 During the 2012-2013 school year, the Ashbrook Center has been offering a series of webinars intended to help high school students develop a better understanding of the country's Founding documents and the principles of American constitutional self-government.
These free webinars allow students in high school classrooms to interact with a professor who is an expert in the field. Each webinar is approximately an hour in length, and the Ashbrook Center works with teachers to accommodate class schedules.
"These webinars are designed for advanced high school students," said Dr. Peter Schramm, executive director of the Ashbrook Center. "The Ashbrook Center hosts these webinars using WebEx Training Center so it allows a professor to sit at a computer and engage in live conversation and discussion with a classroom of students."
Schramm noted that school districts only need a computer equipped with a broadband internet connection, an ordinary web browser, and a webcam and microphone in order to set up the live interaction with the scholar.
The Ashbrook Center received funding from the Hilda E. Bretzlaff Foundation to provide 50 webinars during this school year and the webinars encourage the study of important themes in American history and government in high school classrooms around the country. The themes center on 10 different topics, including:
Revolution and Declaration of Independence

ConstitutionalConvention
Ratification
Sectionalism and Slavery
Civil War
Reconstruction and Civil Rights
Gilded Age
Progressivism
Great Depression and New Deal
World War, Cold War, and Modern America
For these courses, the Ashbrook Center uses Ashland University political science and history faculty members as well as faculty who teach in the University's Master of Arts in American History and Government (MAHG) program.
"Many of the teachers who request these webinars are or have been students in the MAHG program, and they appreciate our focus on primary source documents as well as the discussion-based style of teaching that they receive in the MAHG program," Schramm said. "They want to replicate this experience for their students."
Anyone wanting more information or to schedule an online webinar, can contact the Ashbrook Center at 877.289.5411 or go to www.TeachingAmericanHistory.org/webinars.