Ashbrook Graduate Earns Top Teacher Award from Daughters of the American Revolution
December 24, 2020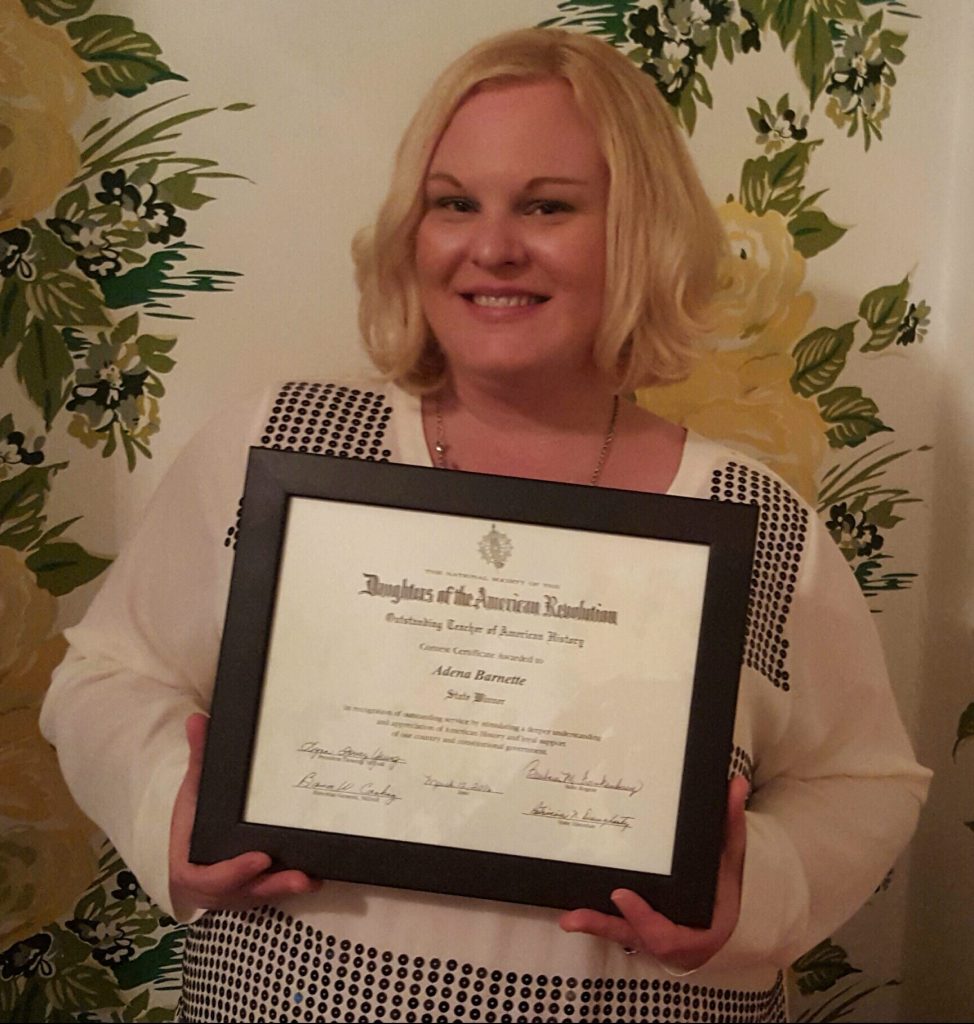 The Daughters of the American Revolution have named a graduate of Ashbrook's Master of Arts in American History and Government (MAHG) degree program as West Virginia's Outstanding Teacher of American History for 2016. Adena Barnette, who teaches at Ripley High School, also placed third in the national competition.
Active in statewide and national education efforts and a frequent traveller to out-of-state teacher seminars, Barnette brings the wider world to students in her hometown of Ripley. It's an Appalachian town of about 3,500, thirty miles north of Charleston. It boasts the country's largest small town Independence Day celebration, which drew a visit from President George W. Bush in the July following 9/11. Yet students in the economically challenged town need a push to claim their personal potential.
The high school serves 1,000 students from Ripley and surrounding communities. Barnette chairs the social studies department and teaches the college preparatory track: helping students, often the first in their families to aspire to college, gain the skills for admission and success. Meanwhile, she encourages the "belief that hard work begets success."
"My students read primary sources at least three out of five days in any given week," Barnette told the DAR awards panel. This requires hands-on teaching as she guides students in highlighting, annotating, looking up vocabulary words, and moving from analysis to high-order questioning of the implications of a text.
Barnette credits Ashbrook's Master's program, which is based on the study of primary documents, with sharpening her own skills of both document analysis and writing. "To become a good writer, it helps to emulate the great American writers . . . thinking about what they say and how they say it."
Through the Ashbrook program, Barnette developed her analytical and writing skills well enough to earn the Chairman's award for her thesis, which presented ground-breaking research on the Constitutional process through which West Virginia detached from Virginia, becoming its own state.
Ashbrook's MAHG program also gave Barnette valuable colleagues. "Living in a rural area, you can feel isolated if you don't know others in your community who are equally obsessed with American history. I can bounce ideas off of my MAHG friends, ask questions about my lesson plans, and share my latest projects."
One such project is the Digital Public Library of America (DPLA), a national non-profit organization working with like-minded groups to increase access to educational resources. Barnette serves on the Education Advisory Committee to the DPLA and has written teaching guides to six primary source sets on a wide range of American history topics, from coal mining and labor history to colonial American religion. Still, Barnette calls Ashbrook's Teaching American History website "one of the greatest repositories for primary sources. If I'm looking for a document, that's where I go."
Teaching key American documents that articulate American principles serves Barnette's primary goal of "instilling a genuine and abiding patriotism that rises above party, region, or demographic." She quotes John Adams: "Liberty cannot be preserved without general knowledge among the people," adding that "it rests on educators' shoulders whether our American republic will continue to be a 'city on a hill' or a failed experiment in democracy."
Barnette is the second graduate of Ashbrook's Master's program to have placed nationally in the DAR competition. Nancy Lindblom of Arizona won the top national award in 2012. Michelle Hubenschmidt of Florida, now a manager of Ashbrook teacher programs, won the national award bestowed by the Sons of the American Revolution, a brother organization to the DAR, in 2012. These awards testify to Ashbrook's key role in strengthening American constitutional government through civic education.