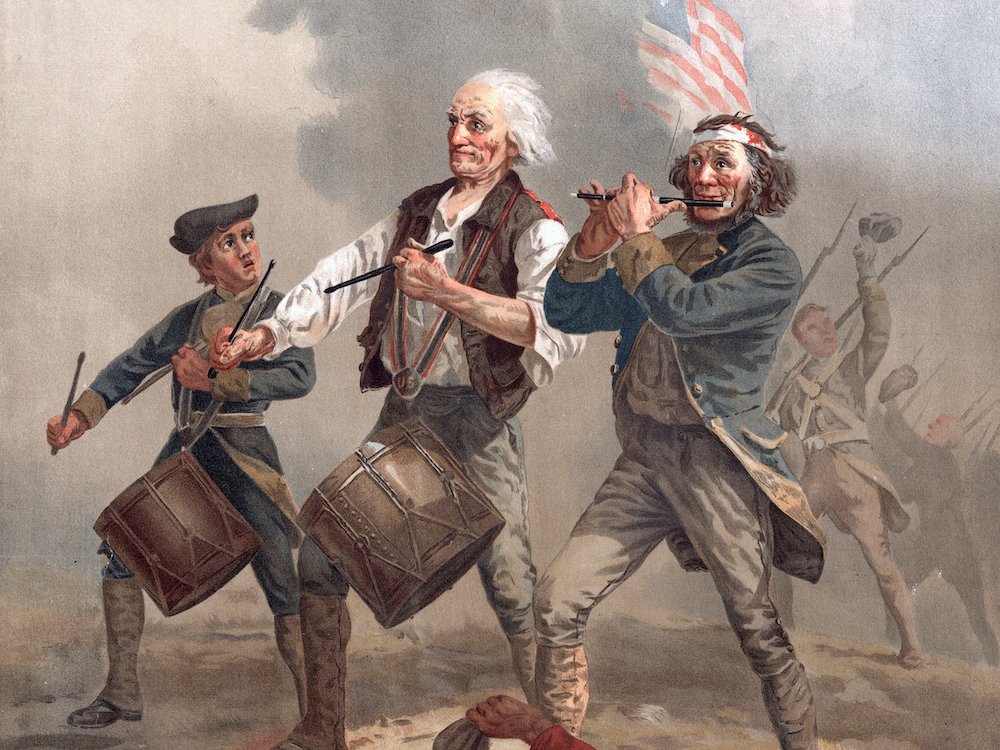 Leading a Second American Revolution in America's Classrooms
The Problem
As the United States prepares to celebrate the 250th anniversary of independence, our nation faces a crisis. Too many young Americans do not understand or feel devotion to America's history or principles of self-government. Without that understanding and devotion, we cannot preserve the republic handed down from our Founding.
America's crisis is caused by a failure to think about and teach the most essential thing about America — the self-evident truths found in the Declaration of Independence.
The Solution
The patriots of the past loved America and understood why this nation merited their affection. They were animated by a spirit that propelled them to join the American Revolution in 1776 and establish a constitutional republic.
Addressing today's crisis in civic education requires reigniting the Spirit of '76 in current generations.
Restoring respect for the self-evident truths of America's Founding requires teaching the story of America by:
Focusing on the words of Americans who lived and wrote our history. 
Engaging in thoughtful conversations about these words and ideas to allow students to discover for themselves the truth of the American story. 
Ashbrook's Battle Plan
It took a revolution to build this country. It will take nothing short of an educational revolution to keep it. As the leading provider of substantive history and civics education programs and resources for teachers, Ashbrook is leading that Second American Revolution in the nation's classrooms.
Ashbrook is reaching the young through those who teach the young. Teachers are the most important factor in determining student learning. A single teacher can reach up to 5,000 students over the course of their career.
Ashbrook has developed a highly effective, active learning approach and a set of interlocking educational programs and resources for teachers based on the discussion of historical documents. Our content rich programs are taught by a distinguished national faculty and deployed broadly to teachers across the nation. We offer:
One-day seminars where teachers live and work
Multi-day seminars at historic sites
On-campus and live online coursework in a full graduate degree program
Webinar discussions with scholars and a live audience
Classroom resources such as our Core Documents volumes containing key documents and featuring short introductions and discussion questions
Instructional resources such as our document library containing over 2,600 historical documents, online exhibits, and toolkits at TeachingAmericanHistory.org
Ashbrook's large and growing network of over 30,000 American history, government, and civicsteachers are supplementing or replacing textbooks with primary source documents and engaging millions of students in thoughtful conversations about the enduring questions of American history.
Ashbrook aims to recruit, educate, equip, nurture, and sustain a transforming corps of 45,000 teachers to lead an educational revolution in America's classrooms – changing the way American history, government, and civics are taught and understood.
With the successful funding and implementation of this bold plan, young Americans will:
understand the truth of America's story.
rediscover their respect for and devotion to America and our Founding principles.
embrace the responsibilities of citizenship and perpetuate the promise of America.
How You Can Help
Success depends on the generous support of patriotic Americans like you. In order to prepare a transformative corps of 45,000 teachers, Ashbrook must make new investments in programs, marketing, retention, evaluation, and collaboration.