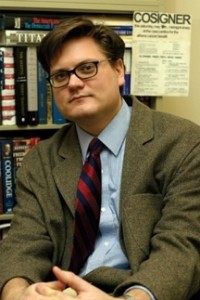 Stephen K. Tootle
Professor of History, College of the Sequoias.
Ph.D., Ohio University; M.A., California State, Fresno; B.A., California Polytechnic State University, San Luis Obispo.
Stephen Tootle (Ph.D., History, Ohio University, 2004) received his B.A. and M.A. from schools close to home (B.A., History, Cal Poly San Luis Obispo, 1996; M.A. History, Fresno State, 1997).  While at Cal Poly, Tootle worked with David Harlan on his book The Degradation of American History and began reading the works of Ohio University history professor, Alonzo Hamby.  Hamby served as Tootle's advisor at Ohio University and directed Tootle's dissertation.  After graduating from Ohio University, Tootle taught US intellectual, political, and diplomatic history at the University of Northern Colorado and Georgia State University before moving back to his hometown of Visalia, California.  Tootle is now Associate Professor of History at the College of Sequoias in Visalia. His reviews, articles, and essays have appeared in many publications, including Claremont Review of Books, Journal of the Gilded Age and Progressive Era, and The Visalia Times-Delta.