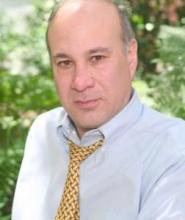 Jace Weaver
Franklin Professor of Native American Studies and Religion and Adjunct Professor of Law, University of Georgia.
J.D. Columbia Law School of Columbia University; Ph.D. Union Theological Seminary in New York
Jace Weaver is Director of the INAS, Franklin Professor of Native American Studies and Religion, and Adjunct Professor of Law. As director, he serves as advisor for all students in the undergraduate and graduate Native American Studies Programs. He holds two doctorates, a J.D. from Columbia Law School of Columbia University and a Ph.D. from Union Theological Seminary in New York.
Dr. Weaver's work in Native American Studies is highly interdisciplinary, though focusing primarily on three areas: religious traditions, literature, and law. He is the author or editor of thirteen books, including That the People Might Live: Native American Literatures and Native American Community, Other Words: American Indian Literature, Law, and Culture, and Turtle Goes to War: Of Military Commissions, the Constitution and American Indian Memory. American Indian Literary Nationalism, written with Robert Warrior, and Craig Womack won the 2007 Bea Medicine Award for best book in American Indian Studies from the Charles Redd Center for Western Studies and the Native American Literature Symposium. His most recent work is Red Clay, 1835: Cherokee Removal and the Meaning of Sovereignty, written with Laura Adams Weaver.
In 2014, Dr. Weaver shared the prestigious Sevenstar Award from the Cherokee National Historical Society with INAS faculty member Alfie Vick and Brett Riggs (then of the University of North Carolina) for their work in designing Diligwa, a recreation of a 1710 Cherokee town on the grounds of the Cherokee National Museum.  The award honors those who help promote and preserve Cherokee culture and history.  In 2011, an exhibit he co-curated at the museum on the Cherokee National Female Seminary won the Redbud Merit Award for best temporary exhibit from the Oklahoma Department of Tourism and Recreation. In 2003, Dr. Weaver won the Wordcraft Award for Best Creative Non-Fiction from the Wordcraft Circle of Native American Writers for Other Words. In 1999, he won the Portfolio Award for excellence in teaching resources from the journal Media and Methods for his book on CD-ROM, American Journey: The Native American Experience. He has been nominated for the Oklahoma and Connecticut Book Awards.  He has also won four awards for his teaching at UGA.
In Other Words, Dr. Weaver has written, "Native American Studies is by its nature two things, comparative and interdisciplinary." It is this emphasis that he hopes to bring to INAS and the Native American Studies programs at UGA.
Education:
J.D. Columbia Law School of Columbia University
Ph.D. Union Theological Seminary in New York