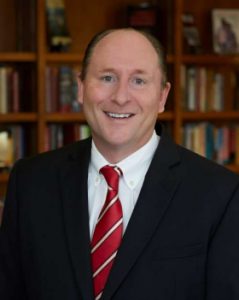 David Wrobel
Professor of History, University of Oklahoma; Chair of Western American History, University of Oklahoma
Ph.D., M.A., Ohio University
David Wrobel, David L. Boren Professor and Merrick Chair of Western American History at OU, is known for his scholarship on the history of the American West. He teaches undergraduate and graduate courses on the West, modern American thought and culture, the Progressive Era, John Steinbeck and the introductory course U.S. History: 1865-Present. In 2015, he received the OU College of Arts and Sciences Holden Award for Teaching Excellence.
Wrobel joined the OU faculty in 2011. In 2014, he received the prestigious Wrangler Award for his nonfiction book, Global West, American Frontier: Travel, Empire and Exceptionalism from Manifest Destiny to the Great Depression. He is also the author of Promised Lands: Promotion, Memory and the Creation of the American West and The End of American Exceptionalism: Frontier Anxiety from the Old West to the New Deal. His book America's West: A History, 1890-1950, is scheduled for publication in January 2018. He is currently working on John Steinbeck's America, 1930-1968: A Cultural History. Wrobel also co-edits The Modern American West book series and serves on the editorial board for the Steinbeck Review.
Wrobel is known for his community engagement and generous mentorship of teachers around the country. He has participated in and directed many teacher institutes sponsored by the National Endowment for the Humanities, U.S. Department of Education, National Council for History Education and other groups. Wrobel serves as an Organization of American Historians Distinguished Lecturer and, in 2005-2006, was Senior Research Fellow in Western American History at Yale University. He is past president of the American Historical Association's Pacific Coast Branch and a member of the Western History Association Council and Phi Alpha Theta, the National History Honor Society.
Wrobel has received numerous research fellowships, including from the Huntington Library, the Newberry Library and the American Philosophical Society. Wrobel was the inaugural recipient of the David L. Boren Professorship, one of the most prestigious honors at OU, created to recognize scholars whose excellence in teaching and research makes a positive difference in public affairs and civic life.
He holds master's and doctoral degrees in American Intellectual History from The Ohio University and earned a bachelor of arts degree in history/philosophy from the University of Kent, Canterbury, England. Prior to coming to OU, Wrobel was department chair and professor of history at the University of Nevada, Las Vegas.
His wife, Janet Ward, is a distinguished scholar and faculty member in the History Department at OU and the founding director of OU's Humanities Forum; they have three children, Davey, Ethan and Miranda.David