The Three Most Important Challenges Facing America - and How to Overcome Them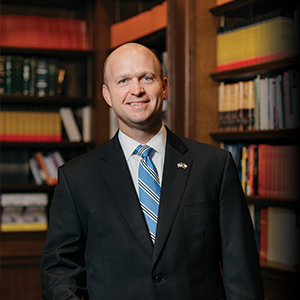 Where and when
March 16, 2023 —
12 Noon - 1:30 P.M.
Ashland University,
638 Jefferson Avenue, Ashland, OH 44805
John C. Myers
Convocation Center
Kevin Roberts, Ph.D., serves as president of The Heritage Foundation and is the seventh president in the 49-year history of the organization.
Roberts previously served as the chief executive officer of the Texas Public Policy Foundation (TPPF), an Austin-based nonprofit, nonpartisan research institute and the largest state think tank in the nation.
A lifelong educator, Roberts founded John Paul the Great Academy, a co-ed, K-12 Catholic liberal arts school in Lafayette, Louisiana, in 2006.
In 2013, he became the president of Wyoming Catholic College. Under his leadership, the college adopted a policy of refusing to accept federal student loans and grants, lest it be forced to violate Catholic tenets.
In addition to his doctorate in American history from the University of Texas, Roberts holds a master's degree in history from Virginia Tech and a bachelor's degree in history from the University of Louisiana at Lafayette. Roberts and his wife have four children.
We're pleased to invite you to join us as Dr. Kevin Roberts speaks about the critical challenges facing America today.
Register to attend this luncheon event using the form below by Tuesday, March 7th!