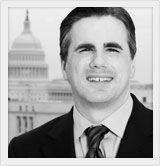 Uncovering the Deep State
Tom Fitton is the President of Judicial Watch, a watchdog group that promotes transparency, accountability and integrity in government, politics and the law. With the motto, "Because no one is above the law," Judicial Watch works to uncover and hold government officials accountable for misconduct and corruption.
Prior to joining Judicial Watch, Fitton was a talk radio and television host. He has over 20 years of experience as a political analyst and often appears on Fox News, as well as ABC, CBS, NBC, CNN, C-SPAN and MSNBC. Fitton is also frequently q­­uoted in major publications including, the New York Post, The Associated Press, Los Angeles Times, The Washington Post, and The New York Times.
Fitton has led Judicial Watch since 1998, during which the organization has seen extraordinary growth. In recent years, Fitton's leadership of Judicial Watch has been integral in uncovering documents related to the 2012 embassy attack in Benghazi, Hillary Clinton's private email server, and the 2013 IRS targeting scandal.
Fitton is also the author of two New York Times Best Sellers, The Corruption Chronicles: Obama's Big Secrecy, Big Corruption, and Big Government, and Clean House: Exposing Our Government's Secrets and Lies.
************************
Ticket Information
Please Note:  Ticket Sales begin August 1, 2018
$20 per person, includes lunch
$160 per table of eight, includes lunch
For more information or to purchase tickets, please contact
Carrie Clever at [email protected] or 419-289-5411.