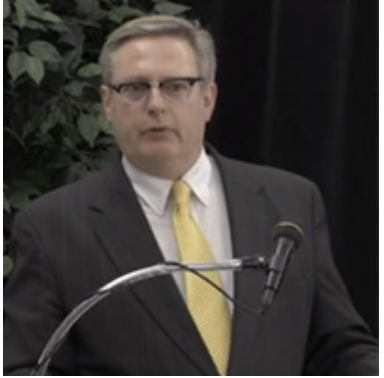 "Othello: One Who Loved Not Wisely but Too Well"
Students of Edward Said have argued that Shakespeare's Othello is a classic case of "orientalist" slander of a Moor; Paul Cantor has argued that Shakespeare, together with Cervantes, brought about the modern secularized world over and against the crazed, devotional loves experienced in pre-modern times. By comparing and contrasting the four main characters of Othello with their equivalents in Shakespeare's source, Cinthio's The Moorish Captain, this talk will implicitly argue against both of these claims.
Burns will show how Shakespeare presents a very heightened attention to the matter of worth or desert that is central to all pre-liberal political or public life, even in its tension with the sub-political but moral demands of love and marriage. In keeping with this, Shakespeare's portrayal of the concern with, and Iago's manipulation of, the chief locus of public life, reputation, is unparalleled in any of his other plays. Second, Shakespeare makes this presentation while deepening the central characters' conjugal love and its relation to a sense of justice or worth. He thereby suggests that the same motivational love, and its attendant desire to be held worthy, informs both public and private life, though it takes on a new dimension in public life. Third, Shakespeare raises the question of the relation of these two, public and private esteem, to happiness, announced as a theme by the name of Desdemona. And since Shakespeare does not make Othello handsome, as did Cinthio, his Othello needs to woo a woman whose heart can be captured by attention to his moral or spiritual deserts rather than by what her father and Iago call "sense," and whose devotion to him is correspondingly total. Finally, Shakespeare's virtuous Othello can be tempted out of his confidence in his wife's fidelity to him only by a perfectly devilish man, one who claims (on dubious grounds) to see through the appearance of virtue and devotion that dominates public speech and who manipulates public appearances to bring doubt and then a sense of grievous injustice into Othello's soul. When Iago's wife Emilia finally sees the full extent of her husband's devilishness, she is moved to renounce her fidelity to him and to their home, in the name of divine justice.
Timothy W. Burns is professor of political science and graduate program director at Baylor University. He is also the editor in chief of Interpretation: A Journal of Political Philosophy. His research interests are in the history of political philosophy, classical and modern political thought, politics and literature, politics and religion, Shakespeare's political thought, and the thought of Leo Strauss.
Burns's articles have appeared in the American Political Science Review, the Journal of Politics, Polis, The Review of Metaphysics, Klesis, Logos, Interpretation, First Things, The Political Science Reviewer, The Claremont Review of Books, and Philanthropy.
Burns is the author and editor of number books. His most recent include:
Author, Shakespeare's Political Wisdom (Palgrave MacMillan, 2013)
Co-author, Key Texts of Political Philosophy: An Introduction (Cambridge, 2014)
Co-editor, The Future of Liberal Education (Routledge, 2014)
Co-editor, Philosophy, History, and Tyranny: Re-examining the Debate between Leo Strauss and Alexandre Kojève (SUNY Press, 2016)