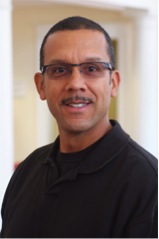 "Lincoln, Emancipation, and the New Birth of Freedom: On Remaining a Constitutional People"
Dr. Lucas Morel is the Lewis G. John Term Professor and Head of the Politics Department at Washington and Lee University. He teaches American government, political philosophy, constitutional law, black American politics, and politics and literature, with research interests in Abraham Lincoln, Frederick Douglass, and Ralph Ellison. He received his Ph.D. and M.A. from the Claremont Graduate University and a B.A. from Claremont McKenna College.
He is the author of Lincoln's Sacred Effort: Defining Religion's Role in American Self-Government (2000) and editor of Ralph Ellison and the Raft of Hope: A Political Companion to "Invisible Man" (2004). His current book project is entitled "Lincoln, Race, and the Fragile American Republic." He has consulted on exhibits at the Library of Congress on Abraham Lincoln and the Civil War. He has conducted history workshops for high school teachers throughout the country and co-written lessons on Antebellum and Civil War America and the Modern Civil Rights Movement for the EDSITEment website of the National Endowment for the Humanities.
He is married with four children and lives in Lexington, Virginia.