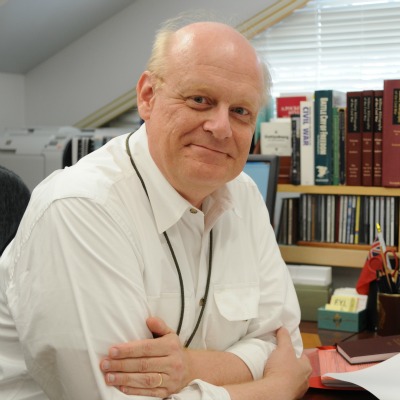 "Was the Civil War a Second American Revolution?"
DR. ALLEN C. GUELZO is the Director of Civil War Era Studies and a Professor of History at Gettysburg College in Gettysburg, Pennsylvania. He was born in Yokohama, Japan, and holds the MA and PhD in history from the University of Pennsylvania. He is the author of Abraham Lincoln: Redeemer President (Wm. Eerdmans, 1999), which won both the Lincoln Prize and the Abraham Lincoln Institute Prize in 2000; Lincoln's Emancipation Proclamation: The End of Slavery in America (Simon & Schuster, 2004) which also won the Lincoln Prize and the Abraham Lincoln Institute Prize, for 2005; Lincoln and Douglas: The Debates That Defined America (Simon & Schuster, 2008), on the Lincoln-Douglas debates of 1858; a volume of essays, Abraham Lincoln as a Man of Ideas (Southern Illinois University Press, 2009) which won a Certificate of Merit from the Illinois State Historical Association in 2010; and Lincoln: A Very Short Introduction (in the Oxford University Press 'Very Short Introductions' series. In 2012, he published Fateful Lightning: A New History of the Civil War and Reconstruction with Oxford University Press, and this coming May (2013) Knopf will publish his book on the battle of Gettysburg (for the 150th anniversary of the battle), Gettysburg: The Last Invasion.
He has written for the Washington Post, the Los Angeles Times, The Wall Street Journal, the Christian Science Monitor, First Things, U.S. News & World Report, National Review, the Daily Beast, the Claremont Review of Books and Books and Culture, and has been featured on NPR's "Weekend Edition Sunday," The Daily Show with Jon Stewart, Brian Lamb's "Booknotes," and Bill Bennett's "Morning in America." Together with Patrick Allitt and Gary W. Gallagher, he team-taught The Teaching Company's new edition of its American History series, and as well as courses on DVD on Abraham Lincoln, Mr. Lincoln, on American intellectual history (The American Mind), and the American Revolution.
He lives in Paoli and Gettysburg, Pennsylvania, with his wife, Debra.