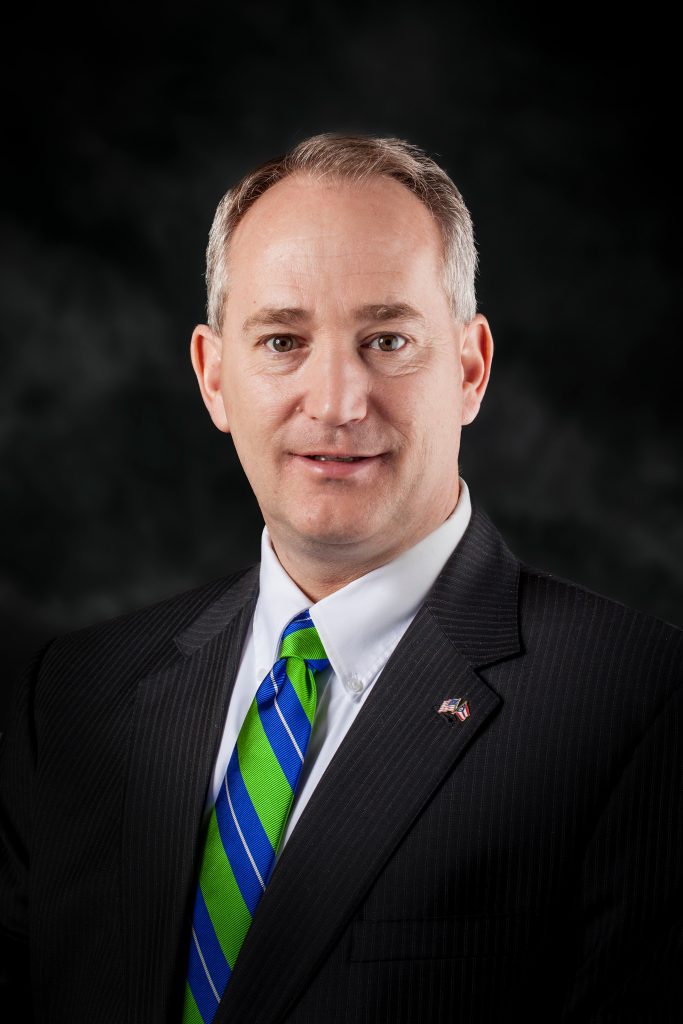 "Advancing the Principles of Opportunity and Responsibility in an Unprincipled World"
Senate President Keith Faber has dedicated the past decade to serving the residents of Western Ohio in the Statehouse. Faber represents the 12th State Senate District, encompassing all of Allen, Champaign, Mercer, and Shelby Counties as well as portions of Auglaize, Darke and Logan Counties. He is currently serving his second term as President of the Senate. Prior to his election to the Senate, President Faber served three terms in the Ohio House of Representatives.
In the 130th General Assembly, President Faber led with the goal of making Ohio the best
place to live, work and raise a family. In order to achieve that goal, Faber led key initiatives to make Ohio a more business friendly state by removing burdensome regulations, cutting income taxes by 10 percent and cutting small business taxes by 50 percent. He also led the call on the United States Congress to pass a balanced budget amendment.
Before joining Senate Leadership in 2009 as Majority Leader, Faber served as Vice Chairman of the Senate Insurance, Commerce & Labor Committee, as a member of the budget-writing Finance & Financial Institutions Committee, and as Chairman of the Senate Standing Committee on Government Oversight. Faber also represents the Senate on the State Ballot Board, the Joint Legislative Ethics Committee, the Legislative Service Commission Board, and the Redistricting, Reapportionment & Demographic Research Legislative Taskforce.
An award-winning fiscal conservative, Senator Faber has been a consistent promoter of jobs and job growth for Ohioans. At the Statehouse, Senator Faber has been a strong advocate for lower taxes, restraint in state spending and an overall smaller, more responsible government. For his efforts, Faber has been named a Watchdog of the Treasury five times (2004, 2006, 2008, 2010 & 2012) and Outstanding Legislator of the Year (2004) by the United Conservatives of Ohio.
Inspired by input he gathered in field hearings throughout the summer of 2008 as chairman of the Regulatory Reform Task Force, President Faber is actively working to reduce government red tape that drives up costs, burdens small businesses and hinders job creation. His work on regulatory reform resulted in the National Federation of Independent Business honoring him with the Guardian of Small Business Award in 2010, a year in which he was also named the Public Official of the Year by the Ohio Restaurant Association. It was this same commitment that led him to work with Lt. Governor Mary Taylor and Ohio Governor John Kasich to draft Ohio's CSI Initiative, which enforces common sense business regulations in Ohio.
Senator Faber has also been honored for his work to promote strong families and traditional Ohio values, including receiving the Moms for Ohio's Public Service Award for promoting pro-family values.
Outside of his legislative duties, Faber is the principal partner with Faber and Associates in Celina, a law firm specializing in civil litigation and mediation, helping courts and parties resolve matters without trial. He earned his Juris Doctorate from The Ohio State University in 1991. He did his undergraduate work in public administration/policy with a minor in biology, graduating with honors from Oakland University in Michigan in 1988.
President Faber remains active in the community, holding membership in the Mercer County Republican Party, several different Chambers of Commerce and Farm Bureaus, Celina Moose Lodge, Celina Eagles Lodge, Mercer County and Ohio Right to Life, National Rifle Association, Mercer County Sportsman, Lima Sabres, and also served two terms on the Mercer/Auglaize YMCA Board of Directors.
Senator Faber and his wife Andrea reside just outside Celina in Mercer County with their two young children, Adam and Brooke, and attend St. John's Lutheran Church.