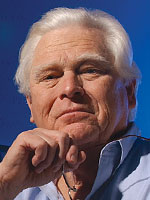 Madison's Republic
Listen to presentation below.
Dr. Gordon Lloyd, Professor Emeritus, Pepperdine University, Senior Fellow Ashbrook Center at Ashland University, Editor, Debates in the Federal Convention of 1787 by James Madison
Gordon Lloyd earned his B.A. in economics and political science at McGill University. He completed all the coursework toward a doctorate in economics at the University of Chicago before receiving his M.A. and Ph.D. degrees in government at Claremont Graduate School. The coauthor of three books on the American founding and sole author of a book on the political economy of the New Deal, he also has numerous articles, reviews, and opinion-editorials to his credit. His latest coauthored books are The Two Narratives of Political Economy (2010) and The New Deal and Modern American Conservatism:  A Defining Rivalry (2013). He is the creator, with the help of the Ashbrook Center, of four highly regarded online exhibits on the origin of the Constitution. He has received many teaching, scholarly, and leadership awards including admission to Phi Beta Kappa and the Howard White Award for Teaching Excellence at Pepperdine University. He currently serves on the National Advisory Council for the Walter and Leonore Annenberg Presidential Learning Center through the Ronald Reagan Presidential Foundation.