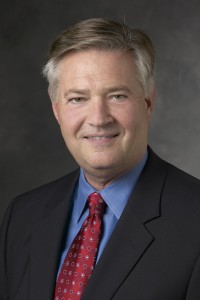 Rugged Individualism:  Dead or Alive?
Summary:  American individualism was planted deeply in the founding of America, established in the Declaration of Independence and protected by the Constitution.  Rugged individualism may have reached its peak during the days of the Western frontier but, beginning with the Progressives and the New Deal, it has been under constant attack.  Today it is in a fight for its life with both government action and philosophical ideas keeping rugged individualism on the defensive.  The questions are whether it is now dead or alive, and whether that is a good or bad thing.  And what are its prospects for the future?
David Davenport is a Visiting Fellow at the Ashbrook Center. Davenport is also a research fellow at the Hoover Institution at Stanford, specializing in international law and treaties, constitutional federalism, and American politics and law.
Davenport is the former president of Pepperdine University (1985–2000). Under his leadership, the university experienced significant growth in quality and reputation. Davenport served as a Distinguished Professor of Public Policy and Law at Pepperdine University from 2003 to 2008.
Davenport cofounded Common Sense California and the Davenport Institute for Public Engagement and Civic Leadership. He also served on the board of California Forward, a major bipartisan reform group, and was a member of Governor Schwarzenegger's California Performance Review Commission. Davenport has served on several corporate and nonprofit boards as well.
A strong voice in contemporary politics and policy, Davenport is a columnist for Forbes.com and delivers regular radio commentaries on the Salem Radio Network and Townhall.com (where he is a contributing editor).
He recently coauthored the book Rugged Individualism:  Dead or Alive?, which explores the origin and centrality of American rugged individualism, how it has fallen under attack, and whether it might be revived.  Earlier he coauthored The New Deal and Modern American Conservatism, which explains how the New Deal of the 1930s established the framework for today's US domestic policy and the ongoing debate between progressives and conservatives.
Davenport has also contributed chapters to Hoover books on values in a free society and legal threats to American values and has authored articles in Policy Review on "The New Diplomacy" and "The Politics of Literacy." Davenport is a popular public speaker, having served for several years as a world affairs lecturer for Crystal Cruises.
Davenport earned a BA with distinction in international relations from Stanford University and a JD from the University of Kansas School of Law, where he was elected to Order of the Coif and earned national and international awards in moot court competitions.