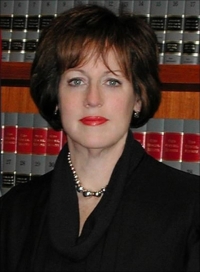 Chief Justice Maureen O'Connor is the 10th Chief Justice in Ohio history and is the first woman to lead the Ohio judicial branch.
She first joined the Supreme Court of Ohio as an associate Justice in January 2003. She was re-elected in November 2008 and then as Chief Justice in 2010.
Born in the nation's capital, but raised in Strongsville and Parma, Chief Justice O'Connor's career in public service and the law spans three decades and includes service as a private lawyer, magistrate, common pleas court judge, prosecutor, and Supreme Court Justice.
She earned her bachelor of arts at Seton Hill College in 1973 before going on to earn her law degree from Cleveland-Marshall College of Law, 1980.
While gaining experience in practice as an attorney during the early 1980s, Chief Justice O'Connor created a home for her family and her legal career in Northeast Ohio. Appointed a magistrate in Summit County in 1985, she served in that capacity until becoming a common pleas court judge in 1993. As a busy trial judge, Chief Justice O'Connor was selected by her peers to serve as the administrative judge — a testament to her ability to build coalitions and maintain collegiality while administering to the business of the courts.
She resigned from the bench to become the Summit County prosecuting attorney in 1995. She was recognized for her work on behalf of crime victims, and received awards from Mothers Against Drunk Driving and Cleveland State University. As prosecutor, Chief Justice O'Connor also lobbied the General Assembly on important criminal justice reforms.
In 1998, she was elected lieutenant governor — the second-highest official in the state. She became the governor's chief advisor on criminaljustice issues, serving as director of the Ohio Department of Public Safety, and as chair of Ohio's Security Task Force and the State Building Security Review Committee.
In the wake of the September 11 attacks, she led the state in its response to new threats of terrorism working with law enforcement, Ohio EMA and The Department of Homeland Security.
Chief Justice O'Connor won election as Chief with more than 67% of the popular vote, nearly the same percentage earned in her 2008 re-election victory. Her first statewide judicial election in 2002, in which she took more than 57% of the vote, made her the 148th Justice to the Court, the sixth woman to join the Court and gave the Court its first-ever female majority.