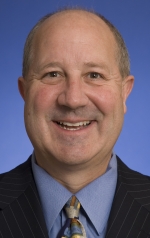 Summary: Historians and political scientists judge presidential "greatness" according to many different criteria.  Typically the presidents regarded as our best were the ones who confronted a national crisis and mobilized the entire nation to face it, or those who reshaped the United States in line with their grand "vision" for America.  Along the way, however, the office of the president, like our federal government in general, has grown and changed in ways the Founders would not have recognized or approved.
The Ashbrook Center's Thomas W. Smith Fellow Steven Hayward begs to differ from the conventional wisdom, and proposes a more simple standard for evaluating presidents: how well did they live up to their oath of office to "preserve, protect, and defend the Constitution of the United States."  This requires us to regard how well individual presidents understood the Constitution, and how their thoughts and actions affected the operation of the Constitution over time.
Steven F. Hayward recently joined the Ashbrook Center as the Thomas W. Smith Distinguished Fellow, after 10 years as the F.K Weyerhaeuser Fellow in Law and Economics at the American Enterprise Institute in Washington DC. He holds a Ph.D in American Studies and an M.A. in Government from Claremont Graduate School, and has been a visiting professor at Georgetown University and Ashland University. He writes frequently on a wide range of current topics, including environmentalism, law, economics, and public policy for publications including National Review, Reason, The Weekly Standard, The American Spectator, The Public Interest, the Claremont Review of Books, and Policy Review. He blogs daily at the widely read PowerLineBlog.com, and his newspaper articles have appeared in the New York Times, Washington Post, the Wall Street Journal, the San Francisco Chronicle, the Chicago Tribune, and dozens of other daily newspapers. He is the author of Index of Leading Environmental Indicators, published in 14 editions from 1994-2009, and its successor, the Almanac of Environmental Trends (www.environmentaltrends.org).