An Evening with Lynne Cheney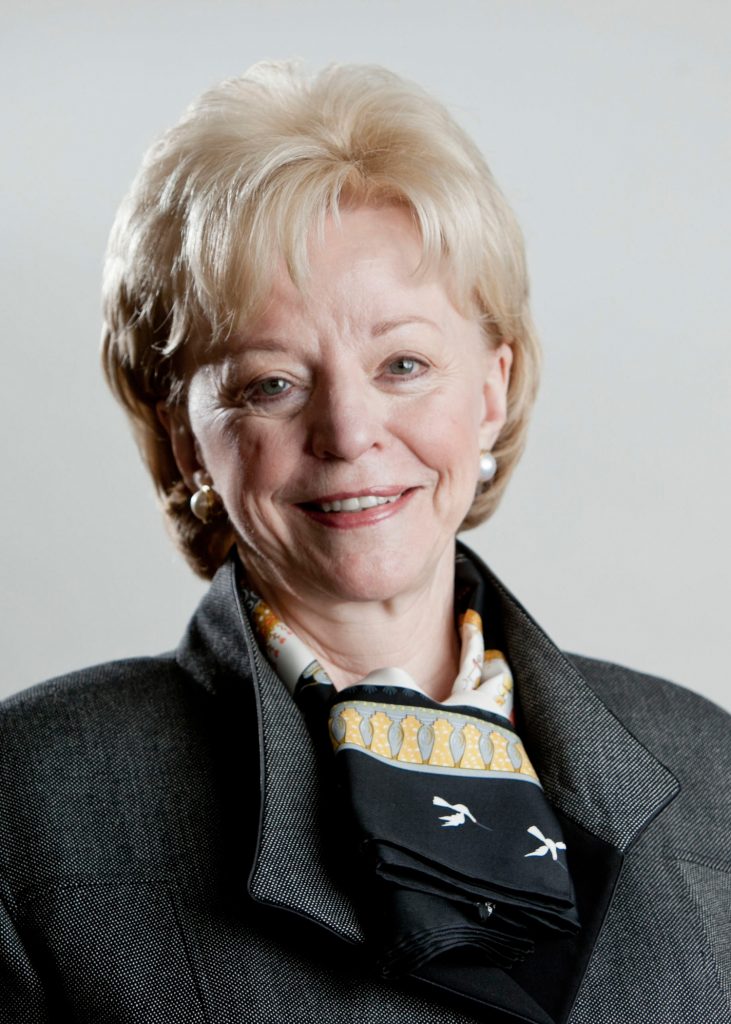 September 15, 2014
Dinner begins at 7pm
Sponsor – $1,000
Program Recognition
10 Dinner tickets
Preferred Table Location
Dinner Ticket – $30
For more information or to purchase tickets, contact Lisa Ormiston at (419) 289-5411 or [email protected].
Register for this event online.
Lynne Cheney has loved history for as long as she can remember and has spent her professional life encouraging others to love it as well.
As chairman of the National Endowment for the Humanities from 1986 to 1993, she wrote and spoke about the importance of teaching children about the leaders, events, and ideas that have shaped our world, and she worked to provide opportunities for teachers to gain the in-depth knowledge that lies behind inspired instruction. Currently, as a senior fellow at the American Enterprise Institute, she emphasizes the value of knowing American history so that we understand how precious—and fragile—our freedom is. "Reading history makes it clear that the life we enjoy isn't inevitable," she says. "Understanding how rare and precious liberty is underscores the importance of defending it."
Mrs. Cheney has worked to bring tales of the American past to a wide audience, writing articles about history for numerous publications on topics ranging from woman suffrage in the West to the way Americans celebrated the country's centennial. In her book, Blue Skies, No Fences: A Memoir of Childhood and Family (Threshold, 2007), she took a personal approach to history, recounting the years of her growing up in Casper, Wyoming, and telling the stories of the men and women whose journeys brought her family to the high plains of the West.
Mrs. Cheney has also turned her attention to children and their families, writing six bestselling history books for them: America: A Patriotic Primer, released in May 2002, is an alphabet book that celebrates the ideas and ideals that are the foundations of our country; A Is for Abigail: An Almanac of Amazing Women, released in September 2003, tells the story of women's contributions to American history; When Washington Crossed the Delaware: A Wintertime Story for Young Patriots, released in October 2004, tells of the dramatic military campaign that began on Christmas night, 1776; A Time for Freedom: What Happened When in America, released in October 2005, puts the great events and figures of American history into context and tells the story of freedom in America; Our 50 States: A Family Adventure Across America, released in October 2006, is a state-by-state celebration of the cities, historical figures, artists, innovators, and landmarks that together create the wonder that is the United States. Mrs. Cheney's latest book, We the People: The Story of the Constitution, released in September 2008, recounts the timeless story of the making of our Constitution and the key players – including George Washington, James Madison, and Benjamin Franklin – involved.
Her newest book, James Madison: A Life Reconsidered, an in-depth biography of the fourth President of the United States and the father of the Constitution, was released on May 6, 2014 and is a best seller.
Mrs. Cheney has donated more than $1 million from the proceeds of her children's books to charity, and one of the recipients has been the James Madison Book Award, which she established in 2003. Aimed at encouraging excellence in bringing knowledge and understanding of American history to young people, the $10,000 prize, given annually, was awarded in 2008 to The Many Rides of Paul Revere, written by James Cross Giblin, an engaging biography that transports readers back in time to the world of a legendary American patriot who is perhaps best known for his famed midnight ride in 1775 before the Battles of Lexington and Concord. In the final year of the award, Mrs. Cheney also announced a $5,000 Lifetime Achievement Award for author Albert Marrin.
Mrs. Cheney earned her Bachelor of Arts degree with highest honors from Colorado College, her Master of Arts from the University of Colorado, and her Ph.D. with a specialization in 19th-Century British literature from the University of Wisconsin. She is the recipient of awards and honorary degrees from dozens of colleges and universities.
Mrs. Cheney lives in Wyoming, with her husband, Vice President Richard B. Cheney. They have two grown daughters, four granddaughters, and three grandsons.