2019 Rediscovering America Weekend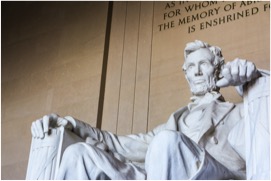 Where and when
October 27, 2018 —
October 29, 2018

Third Annual
Rediscovering America Weekend
An exclusive event for members of the Director's Club at the Ashbrook Center
October 25-27, 2018
Washington, DC

"Abraham Lincoln's Washington, DC"
Rediscovering America Weekend
Director's Club members are invited to visit Washington, DC this fall for the Third Annual Rediscovering America Weekend.  This is an extraordinary opportunity to learn more about the people, ideas, and events that have defined our nation.
Visit the Place Where Lincoln Wrote the Emancipation Proclamation
While in Washington, we will enjoy dinner at a little-known place that played a significant role in Lincoln's presidency.  During the dark days of the Civil War, a cottage on the ground of the Soldier's Home became Lincoln's refuge.  It was there the Mr. Lincoln retreated to mourn for his son Willie and for the 600,000 Americans killed or wounded in the war.  It was also where he sought a quiet place to think and strategize.  And it was at the Cottage, in the autumn of 1862, that he authored the Emancipation Proclamation.
Dr. Allen Guelzo, Director of the Civil War Studies Program at Gettysburg College and the nation's preeminent Lincoln scholar, will be our keynote speaker at the Cottage.
Experience Abraham Lincoln's Washington, DC
In addition to an evening with Dr. Allen Guelzo, Director's Club members will enjoy the following:
Participate in an Ashbrook-style seminar with Lincoln Scholar Lucas Morel;
Meet and talk with Ashbrook Teachers;
Explore the National Mall by night, with a special visit to the Lincoln Memorial; and
Rediscover President Lincoln's fateful years in our nation's capital.
What is the Director's Club?
The Director's Club is a group of like-minded individuals who share a deep affection for our country and support Ashbrook with an annual gift of $1,000 or more in order to restore and strengthen the capacities of the American people for constitutional self-government.
As a member of the Director's Club, you will enjoy the following benefits:
An invitation to attend our annual Rediscovering America Weekend at a historic site;
Opportunities to participate in live online seminars on important topics in American history and civics;
Reserved seating at select Ashbrook events;
Pre-release copies of Ashbrook publications;
Monthly VIP Reports; and
Recognition in Ashbrook's Annual Report.
The most important benefit of membership, of course, is knowing that you are part of a mighty effort to help fight for America's future. 
Contact the Director's Club Manager
Stacey Zion
[email protected]
(419) 207-4912
If you're interested in this event, be sure to read about last year's program.