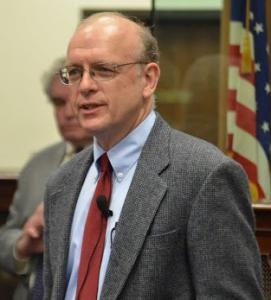 What is the best way to deal with ISIS, al Qaeda and similar organizations? 
Click below to listen to presentation.
Using the analysis in his new book, Revolution and Resistance: Moral Revolution, Military Might, and the End of Empire (Johns Hopkins University Press, 2016), David Tucker will discuss the emergence of violent Islamic resistance and strategies for dealing with it.
David Tucker is a Senior Fellow at the Ashbrook Center at Ashland University and Associate Director of the Master of Arts in American History and Government. Prior to joining  Ashbrook, he taught for 15 years at the Naval Postgraduate School in Monterey, California and worked both in the Pentagon and overseas for the U.S. government. Prior to his government service, Tucker was a William Rainey Harper Fellow at the University of Chicago.
Professor Tucker earned his Ph.D. in history at the Claremont Graduate School in 1981. His publications include The End of Intelligence:  Espionage and State Power in the Information Age (Stanford, 2014); Illuminating the Dark Arts of War: Terrorism, Sabotage, and Subversion in Homeland Security and the New Conflict (Continuum, 2012); and Enlightened Republicanism: A Study of Jefferson's Notes on the State of Virginia (Lexington Books, 2007), as well as other books and articles on military affairs and American history.